Your Ecommerce Fulfillment Guide: 3PL Ecommerce Fulfilment is your Solution
Whether you are launching a new ecommerce business or already have one, it is important to understand the importance of  ecommerce fulfillment to ensure a smooth order fulfillment process and drive the growth of the business.
What is Ecommerce Fulfillment?
Ecommerce fulfillment is the process of fulfilling e-commerce orders to your customers within a certain time frame. There are three steps of ecommerce fulfillment which are receiving, storing processing, shipping and returning items.
Steps of Ecommerce Fulfillment:
For businesses to provide a high quality of service to customers, all the five steps of the eCommerce Fulfillment process must be performed to the highest standard.
Step 1: Goods Received
The first step of the eCommerce fulfillment service is receiving the goods from the company's warehouse and storing them in the 3PL eCommerce fulfillment warehouse. The incoming inventory is carefully inspected and counted to ensure the correct amount of goods are received and that the items are quality checked to ensure the standard is acceptable.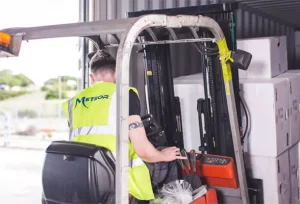 STEP 2: Goods Stored
It is an important step to ensure that inventory is stored in an organised manner. Maintaining an appropriate storage strategy ensures that 3PL eCommerce fulfillment service is seamless. Organised inventory means that products are stored safely and are easy to find during the picking and packing process so that customer's orders can be dispatched quickly.
STEP 3: Order Processed
There are three different stages to order processing. The first stage is receiving customer orders. Any orders placed by customers will be automatically integrated into your chosen 3PL eCommerce fulfillment software.
The warehouse operatives will pick the items on the order using the software platform. The software will identify the product's quantity, storage location, and packing requirements. Using a warehouse management system (WMS) for example, Canary 7, will help eliminate human mistake and improve efficiency to ensure your customers receives the correct order.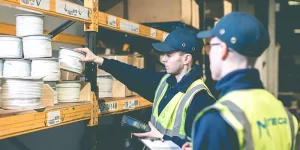 The final stage of order process is ecommerce packaging. The items will be carefully packaged using appropriate packaging to ensure safe delivery.
STEP 4: Orders Shipped
This step involves discovering your company's ideal carrier match using a wide distribution service to ensure the orders received are dispatched as quickly and safely as possible.
STEP 5: Returns Management
The process of eCommerce fulfillment does not end with delivery. This level focuses on customer service. Customers may wish to return an order to an online retailer at any time. These returns must be processed by 3PL eCommerce fulfillment centers. The consumer will return the item for inspection. The product might be disposed of or refilled in the inventory, depending on the reason for the return.
Ecommerce Fulfillment Models:
There two different approaches to fulfilling order, in-house eCommerce fulfillment or you can outsource a 3PL eCommerce fulfillment partner.
In-House Ecommerce Fulfillment:
In-house fulfillment is when an eCommerce business manages its own order fulfillment process. This process involves carrying out all the fulfillment steps in-house such as picking, packing, and shipping orders. Ecommerce fulfillment in-house would require warehouse space, software, automation, and labour to fulfil orders.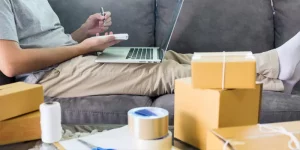 Third Party Ecommerce Fulfillment Partner:
Ecommerce fulfillment can be a difficult process especially when you don't have the resources and expertise in warehousing and fulfilment. Outsourcing a third party ecommerce fulfillment partner would be the best option to ensure eCommerce orders are fulfilled efficiently.
By outsourcing order fulfillment to a 3PL eCommerce fulfillment company like Meteor Space, the costly and time-consuming process of ecommerce fulfillment can be streamlined. Using a reputable 3PL ecommerce fulfillment company frees up time for you to focus on your business and branding.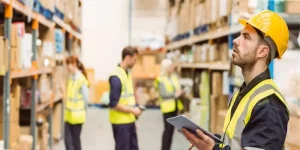 Why Outsource 3PL Ecommerce Fulfillment Partner?
It is critical to fulfill orders promptly, accurately, and cost-effectively to meet the growing needs of online and ecommerce businesses. Ecommerce fulfilllment services can take over the preparation and shipping of customer orders, ensuring that your company can give the level of service that your consumers expect.
Below are reasons why your business needs a 3PL eCommerce fulfillment partner:
1. Unable to meet Customer Expectations
It is important for eCommerce businesses to meet customer expectations to be successful in the market. Customer expectations could be fast shipping, increased transparency, and high levels of customer service.
Providing a smooth, flawless customer experience is extremely beneficial since it has the potential to convert one-time purchasers into loyal customers. Aligning your eCommerce fulfillment services to meet consumer desires would provide a significant competitive advantage over other eCommerce businesses in the market. Customers will simply not buy from you again if your shipment times are slow. Instead, they'll turn to the competition, who can deliver—literally—on the expected shipment timelines.
Your eCommerce business will move quickly therefore, you need an 3PL eCommerce fulfillment partner to help meet your customer expectations.
2. Lack of Resources
It can be challenging to get the right resources for the eCommerce fulfillment.
Outsourcing a 3PL eCommerce fulfillment company would provide your company with access to the resources to fulfill an order such as labor, packing, security, and security.
3. Lack of Warehouse and Fulfillment Expertise
Businesses that want to expand their warehousing capabilities and knowledge would benefit from outsourcing a 3PL fulfillment service. The years of experience and knowledge of the 3PL supplier in supply chain management would provide your company with a competitive advantage. Customers will be more satisfied if you improve your on-time delivery and inventory accuracy with warehousing specialists.
Furthermore, warehouse ecommerce fulfillment experts would be able offer guidance and help on your company's operations. 3PL eCommerce fulfillment experts would take care of all the hard work of receiving, inventory management, order processing and shipping allowing you to focus on your core business.
Conclusion:
Ecommerce fulfillment is a very important component for the success any eCommerce business.  Seamless and effective eCommerce fulfillment will help your business meet your customer expectations and increase revenue.
Outsourcing with an 3PL  eCommerce fulfillment company will provide you with excellent ecommerce fulfillment services. Meteor Space is passionate about the success of your business and wants to work closely with your business to adapt and maintain best business practices to exceed your customer expectations.
If you have any further queries about our 3PL eCommerce fulfillment service, call us on 028 (048) 867 52108. Or alternatively, fill out the contact form and our friendly team will be happy to help as your first choice 3PL eCommerce fulfillment partner in Ireland.