Green Fulfilment Services:
Sustainability fulfilment and green fulfilment are becoming increasingly important for many eCommerce firms as climate change is having a growing negative influence on our lives and the future of the world.
44% of consumers in the UK are choosing brands with sustainable fulfilment efforts including recycled or compostable packaging. Therefore, eCommerce companies are looking for ways to reduce their ecological impact. As a green fulfilment company, we're here to assist you to meet that demand with greener fulfilment alternatives.
The government and other businesses are already collaborating to lower our global impact. More green energy options are becoming available, and it's time for fulfillment companies to become green fulfilment companies.
As a green fulfilment organization, Meteor Space is dedicated to environmental protection and is constantly seeking to improve and extend our ecologically friendly operations.
How Meteor provides Green Fulfilment:
I have highlighted below how Meteor Space have improved their green fulfilment bonded warehouse to become more environmentally friendly and green.
Recyclable and Green Fulfilment Packaging
Our green fulfilment specialists are always eager to provide low-waste, environmentally friendly packaging options that align with our customer's values. We try to use as much paper alternatives as possible, as part of our sustainable fulfilment efforts to create a greener future, and as a green fulfilment company, it works!
To decrease the carbon impact of delivery, our green fulfilment experts pack smartly, considerately, and effectively. We aim to substitute large boxes with smaller and appropriate-sized parcels wherever feasible.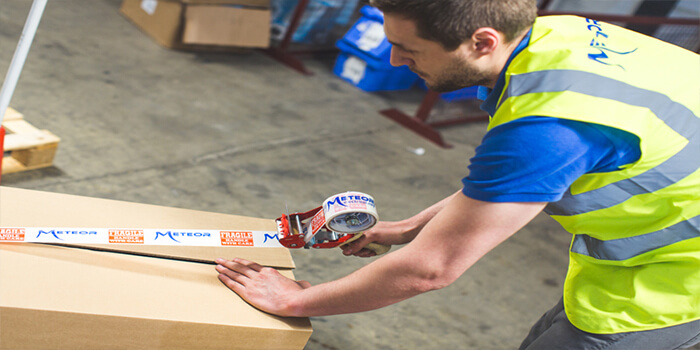 Eco-conscious, Sustainable and Ethical Deliveries
We understand the importance of trustworthy courier services as a green fulfilment provider while also adhering to delivery deadlines in an environmentally responsible manner.
As a green fulfilment provider, we are committed to reducing environmental effects by offering eco-friendly courier services. Due to the order of stops being pre-planned to increase drop density, Meteor Space optimises vehicles' routes to lower emissions. By assuring a smoother process and improving communication between delivery drivers, dispatchers, and beneficiaries, we also shorten the time between stops.
As a green fulfilment provider, we offer eco-friendly storage. Our green fulfilment warehouse experts have optimized our warehouse layout to reduce the time it takes to stock shipments and fulfill orders. We provide efficient lighting and renewable energy-powered electricity to reduce emissions from our storage and distribution facilities.
We have installed solar panels in our green fulfilment centre to reduce our carbon footprint. Our solar panels do not emit any gases or generate any emissions, making them a sustainably fulfilled and environmentally friendly solution.
Warehouse Streamline and Automation
Our green fulfilment automation systems reduce energy consumption which is the biggest benefit of our green fulfilment center. Our automated bonded warehouse reduces the amount of product damage as our green fulfilment order picking is more accurate, therefore, reducing product damage and picking mistakes.
We combine the latest in green fulfillment warehouse technology, automation, highly skilled operatives allow you to streamline your business while staying carbon neutral.
Our Green Fulfilment Services:
Green Pick & Packing Fulfilment:
Our team will pick, pack, and dispatch your orders according to your specifications Inventory is maintained in specific storage locations to guarantee that every order is dispatched as promptly as feasible. Using green fulfilment packing materials, we will ensure your order is packed securely for safe distribution.
Kitting & Assembly:
Our kitting and assembly services allow our team to produce products quickly and more efficiently. Our adaptable green fulfilment experts can take on bigger kitting projects to suit your requirements.
Real-time Stock Visibility:
At our green fulfilment centre, we will provide your business with a 360° view of your operation, providing real-time stock visibility. You will always know where your inventory is and how much you have.
Return Processing:
Our precise pick and pack process is designed to be extremely eco-friendly for green fulfilment and to eliminate returns caused by damage or incorrect items. We have a strict returns policy in place for our customers to ensure that their inventory is arranged and turned over as quickly as possible- helping us as a green fulfilment company in the long run.
24/7 Customer Support:
Our green fulfilment team offers a solution that is specifically adapted to your environmental needs. This entails information exchange and close collaboration with you to adapt and maintain optimal business practices to meet and surpass your customers' expectations.
Benefits of Green Fulfilment:
There are many benefits of green fulfilment for the user and the environment.
Green Fulfilment Increases Your Brand Image
It's critical that your brand be appropriately matched with sustainable fulfilment logistics suppliers. Understanding how customers communicate with one another should be a top priority. Over the years, more customers will only purchase from a brand that is eco-conscious. Therefore, it is important to partner with a green fulfilment supplier that supply the same values as your customers.
Green Fulfilment Increase Revenue
Outsourcing with a green fulfilment company will have a positive impact on your overall brand image and the growth of your business.
Using eco-friendly packaging materials will have a great first impression with customers. Green fulfilment 3PL will help market your organise and increase the growth of your business.
As a result, there is greater brand trust and higher sales from loyal customers.
Examples of Green Fulfilment
When it comes to green fulfilment, it's critical for fulfilment companies to employ recyclable, environmentally friendly materials. Corrugated cardboard and gummed tape, which is recycled paper with a solution, are used in eco-friendly packaging alternatives. As a green fulfilment company, for package fillers, we only use recycled paper.
Green fulfilment describes methods for delivering goods to customers that are sustainable and beneficial to the environment. It entails cutting waste along the entire supply chain and decreasing the carbon footprint. Companies can employ a variety of instances of green fulfilment, including adopting eco-friendly packing materials, implementing more effective transportation strategies, and minimising the use of single-use plastics. Utilizing technology, such as predictive shipping algorithms, to improve delivery routes and save fuel use is another illustration.
Companies can also put recycling programmes for returned goods in place to cut down on waste going to landfills. Companies can use green fulfilment techniques to not only help the environment but also boost their reputation and draw in eco-aware clients.

Become Green with Meteor Space Green Fulfilment Centre:
At Meteor Space, we take pride in our environmental efforts to provide green fulfillment services to our customers. We work continuously to tackle climate change by replacing waste with reducing and recycling to provide a greener and brighter future here at our bonded warehouse.
Contact us today to hear more about how our green fulfilment centre will help your business become greener!